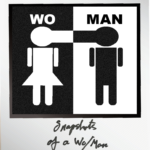 It is time to reveal A Mess' upcoming art hybrid which is realised in collaboration with film director Tor Nygård Kolding, podcast editor Tanja Kjeldgaard and fellow musican Christian Winther.
We are a new gender debating art hybrid collective. We want to stir up the debate through music, through film and through podcast and enhance both the male and female voice and create a new kind of dialogue. Between the two genders, – not against each other. Conversation and dialogue. Through art.
Hold on and get ready for the upcoming 12 singles, 12 short-documentaries and 12 podcast which explores the female and male gaze on themes as Dating and Sex, #Metoo and Consent, Friendship, Career, The Choice to have Children OR not, and last but not least Adultery.
We explore the topics through conversations salons where songs and debating will go hand in hand curated by a fierce panel and an engaging audience.
We are on the verge of production and hopefully we are able to present the first outcome this spring on the topic of Dating and Sex and the single 'Binging' with a female point of view.
STAY TUNED!
Thank you DJBFA, DMF, KODA, Frederiksberg Council, Copydan for supporting the project so far.