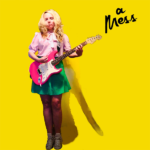 A Mess
Are You Allowed…
To fuck your way to the top?
Hate average people but be quite ordinary?
Get drunk on life – and in the cheapest champagne you can buy?
YES? Here's your soundtrack.
Danish indie rocker A Mess doesn't waste her time. She is head on and fucks with predefined notions and expectations. A one-woman army in front armed with electric guitar, honest as hell. The sound relies on early nineties vibes and current indie. Imagine if The Breeders actually breeded Wolf Alice and wrote songs sent with Snail Mail over the Atlantic to arrive in the heart of Copenhagen, Denmark.
A Mess already received Danish national airplay even before her first single is out: A Mess is loaded with feminine stories on topics as not wanting to have kids, binging sex partners and fucking your way up the career latter. Her upcoming release 'Snapshots of a WO/man' – is in the making. It is a crossover of music, web-documentary and gender discussions.
Dorte Hartmann is the woman behind A Mess. The name 'A Mess' is in Danish called 'Et Rod' – the same as D o r t e spelled backwards.
Live is A Mess a two-piece.
Instagram: amess_sound